We are here to ensure you reach your ultimate fitness and nutrition goals by providing fully customized and professional training whether one-on-one or in a group class.
Services We Offer
One-on-one Training
One-on-one training provides a customized workout tailored by Natasha to satisfy each client's wants, needs and goals they hope to achieve. This is all done keeping in mind any physical limitations, health concerns or requirements each client may have.
How to begin:
Initial Consultation (60 min)

Medical questionnaire
Fitness assessment
Goal setting

Develop Training Plan

Fitness program: provides a recommended training schedule with specific exercises for clients to follow
Group Classes
Group classes are designed for 2 or more participants and range from basic, to intermediate and advanced skill levels. All of our classes are focused on providing expert instruction on proper technique to ensure fitness goals are reached safely. The following list are the class specialties Natasha offers:
Step
High-low
Posture
Sculpting
How to begin:
The first class requires all participants to fill out a medical questionnaire and risk assessment before they can begin.
Service Area
Sunwave Fitness serves the following area. If you live outside the area below, rates will be adjusted on a case-by-case basis.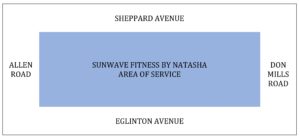 Rates
Call or email us to provide you a quote based on where you are located.